Conservation Information Guide for NC Organic Operations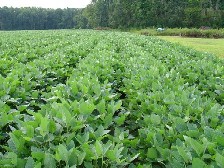 Organic farming involves the adoption of a wide range of practices that protect and improve natural resources. To assist and encourage farmers to adopt resource conservation practices, programs have been established through USDA's Natural Resources Conservation Service (NRCS) that are available to organic farmers in North Carolina . These programs, such as the Environmental Quality Incentives program (EQIP) offer conservation planning, financial and technical assistance. While organic farmers have not widely used conservation program resources they can provide significant benefits for their operations.
The following guide developed by NRCS in Raleigh can be used to identify the practices that can be used in your farming operation and conservation planning. The guide sets out and describes a number of practices that are applicable to organic production for which financial and technical assistance are available through voluntary conservation programs, such as EQIP. (The NRCS identification number for each practice is in parentheses).
Growers who are interested in learning more or participating in conservation programs should consider contacting their local NRCS office to discuss the opportunities and find out what next steps they can take.
Find the NRCS office in your county.
Conservation Information
PURPOSE: To advise organic farming producers on existing Natural Resources Conservation Service (NRCS) practices which may be useful during organic certification, farm and conservation plan development to address farm resource concerns.
BACKGROUND: Organic agriculture has become an increasingly important way of raising crops and livestock over the past several years, as consumer demand has increased dramatically. Many organic producers have not traditionally participated in USDA programs, and may not be aware that NRCS can provide assistance in developing conservation plans. Many existing conservation practices could be used by organic producers to address resource concerns on their operations.
Conservation Practices:
Residue Management (329) (Conservation Tillage) : To manage plant residue on the soil surface year round while limiting soil disturbing activities
Benefits to organic operations:
Reduced sheet and rill erosion
Improved soil organic matter content
Note: Long term organic matter left on the surface can assist in weed suppression
Increased plant available moisture
Reduced carbon losses from the soil
Note: Increased carbon within the soil can lead to reduced fertilizer use due to more efficient carbon/nitrogen cycle
Provide food and cover for wildlife
Pest Management (595): The use of environmental sensitive prevention, avoidance, monitoring and suppression strategies to manage weeds, insects, diseases, animals and other organisms
Benefits to organic operations:
Development of enhanced Integrated Pest Management strategies that are inherent in organic crop production
Pest Management plans which reduce the use of chemicals to the maximum extent possible
Protection of water quality through reducing or eliminating offsite transport of chemicals
IPM strategies emphasize pest scouting, reduced-risk pesticide usage, and pheromone use
Use of alternative fumigants to methyl bromide now addressed in Pest Management for protection of air and soil quality
Nutrient Management (590): Managing the form, placement, and timing of nutrient and soil amendment applications, including organic sources through activities such as soil sampling and site specific nutrient management planning
Benefits to organic operations:
Protection of water quality through agronomic application of nutrient sources
Excessive applications can result in leaching and surface runoff of nutrients that can harm aquatic life
Provides an understanding of recommended nutrient application levels through routine soil sampling, and precision-type soil sampling is available as a cost-sharing practice
Cover Crop (327): Crops including grasses, legumes, and forbs that provide seasonal vegetative cover
Benefits to organic operations:
Allowing proper maturity increases levels of soil organic matter
Increased soil organic matter increases biological nitrogen fixation
Provides supplemental forage for organic livestock
Reduces seasonal water and wind erosion
Certain species enhance wildlife habitat when managed for that purpose
Field Borders (386): Grasses, legumes, or forbs established along field edges that act as traps for sediment and particulate runoff
Benefits to organic operations:
Traps organic fertilizer sources such as poultry litter in vegetated field edges
Protects water quality through sediment and particulate trapping
Can be natural vegetation that enhances wildlife habitat
Can be a part of an IPM strategy that attracts beneficial insects

Note: CP33—Continuous Conservation Reserve Program practice is also available for organic producers—purpose is to use field border practice to establish/enhance grassland bird nesting and pollinator habitat
Conservation Crop Rotation(sod-based) (328): Perennial soil conserving cool season grass mixes (may include legumes) established and maintained for a period of time following row crops
Benefits to organic operations :
Forage-type vegetation that can provide forage to livestock during organic transition period
Improves long-term soil organic matter when part of a no-till rotation
Improves soil infiltration and moisture retention
Helps with erosion control

Note: Sod-based rotations of differing lengths (minimum 17 months) are available in NRCS and NC Cost-Sharing Programs
Other conservation practices that may be of interest to organic producers:
Composting Facility (317)
Waste Storage Facility (313)
Diversion (362)
Grassed Waterway (412)
Upland Wildlife Habitat Management (645)
Filter Strip (393)
Pasture And Hayland Planting (512)
Prescribed grazing (528)
Contour Farming (330)
Hedgerow (422)
Information on all NRCS conservation practices and programs is available by contacting your local Soil & Water Conservation District or on the NC NRCS website:www.nc.nrcs.usda.gov
This publication was developed in cooperation with the North Carolina Natural Resources Conservation Service (NRCS). For further information, contact Larry Elworth, Executive Director, Center for Agricultural Partnerships, at 828 285-9340 (10/03/07)
Page Last Updated: 1 year ago
Was the information on this page helpful?